The History of Murphy Beds of Florida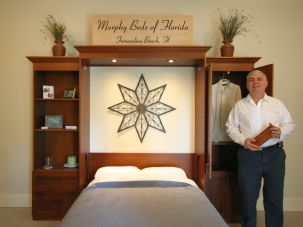 Hi, my name is Charles. I own and operate Murphy Beds of Florida. Since I know that people like to do business with people, I want to share the story of how Murphy Beds of Florida got started and why.
If your family is like mine, they love to come down to Florida for the holidays. After all, we are a great tourist destination. The warm weather in the middle of winter is a much appreciated break from the cold north. I grew up in the north, and shoveled my share of snow. About 30 years ago, I moved my family to Florida. The in-laws were already here, and were enjoying the beautiful Florida weather. And, I gladly gave up snow shoveling.
Why am I telling you this? Because I think a lot of you have had similar experiences. Please allow me to explain.
When we still lived up north, we often drove to Florida to visit the "grandparents." Actually they were my wife's parents, but grandparents to our son. Trying to keep expenses down, we stayed at their home in Jacksonville. It was great being with them, but the sleeping accommodations left a lot to be desired. The fold-out futon only slept one of us, and not very comfortably at that. I usually put a blanket on the floor and tried to sleep there, leaving my wife the futon. The carpet was not much of a cushion for the concrete slab floor. Our son, who was just a little guy, slept on an air mattress. He thought it was fine. And, for his little body, it probably was back then.
Then, after we moved to Florida, we often drove back north to visit my parents who still lived up north. First there was the sleeper sofa. Every sleeper sofa that I have ever slept on was always uncomfortable. There was always that metal support piece in the middle of my back. And, the thin mattresses did not do much to provide comfort for a full night's sleep. I even remember my wife and I taking turns sleeping during the night. One would sleep for an hour or two, then the other. We kind of positioned our bodies diagonally so we could get some rest. I never want to do that again!
I was a graduate student at the time, so the cost of hotels was somewhat prohibitive for us. But, after too many sleepless visits, we just had to use a local motel. Of course, every year the cost of the hotel rooms kept climbing. And the rates were always higher during the peak travel season. And, there were times we could not get a hotel that was close.
Well, those were the "old" days. Our parents are gone now, and now my wife and I are the older generation. We still have some great friends from "up north" and some other places around the country. And, we love when they come to visit and stay a few days. But, there was no way we wanted to put them through the kind of sleepless nights that we had experienced.
We also did not want to dedicate the "spare room" as a permanent guest room. Both my wife and I both do a lot of office work at home so we cherish our office space. Setting up a bed permanently for visitors used a lot of that space.
We tried setting up twin beds, complete with metal frames and box springs, for when folks came to visit. This was comfortable, but had its drawbacks. First, it took some time to set up. Second, during the non-visiting times, those mattresses, box springs, and frames had to be stored someplace. Some place needed to be air-conditioned so the humidity didn't destroy the beds. The garage was not feasible. There were no closets large enough. So, we started renting an air-conditioned storage unit in town. Now, that started to get expensive. There had to be a better way.
Well, here is the good news. We found a solution to our dilemma. About a decade ago, after many years in the high tech computer industry, I used my woodworking skills to start a cabinet shop (ckurak.com). Drawing on the woodworking skills my father taught me, I completed some business courses, some additional woodworking training where I felt I needed it, and began building custom cabinetry and furniture for others. I also invested in some high-tech computerized shop equipment. (I still get to use my computer skills every day.)
During the last decade, I attended many professional woodworking trade shows and visited lots of fellow cabinet shops. Along the way, I kept looking for a solution to our guest sleeping issue. I discovered there was something called a Murphy bed. It was not a new concept, being originally patented in 1916 by William Murphy of San Francisco. It was a bed that could fold up into a closet when not in use. How clever.
Over the years there have been a number of improvements on the original spring design. The beds no longer need to be installed inside a closet. Cabinets could be built to contain the bed when not in use. They could be tastefully decorated with moulding and trim to blend with the other cabinetry and woodwork in the room if desired.
So, my search for the perfect Murphy Bed started. I tried many different styles at the trade shows. They all had spring-loaded devices. Some of them creaked when you opened them. Some were quiet. None of them seemed too easy to operate. And, they all seemed expensive. I also never liked the metal springs and bars that served as the mattress support. I had bad memories of that sleeper-sofa with the metal cross-piece that kept my wife and me awake at my parents' house.
Finally, I found what I believe is the perfect Murphy Bed system. I purchased the mechanism and hardware and built my own cabinetry. Remember that I now have a cabinet shop, so building the cabinetry was a no-brainer for me. We have a few tall friends, so I built it to hold a standard king size mattress. This was not a thin 3-4" piece of foam. This uses a regular mattress from our favorite mattress store. Then, we invited some friends to try it out on their next visit.
It was a success. They loved it. They got a great night's sleep every night on a real bed. And, we had some great times during the day because everyone was well rested each and every morning. Time that would have been spent driving back and forth to their hotel was instead spent relaxing. We got to spend a lot more time talking and enjoying our time together. When someone was tired, it was a quick walk to the other room, open the Murphy bed, and enjoy pleasant dreams on a comfortable bed.
So, let me tell you about this Murphy Bed system. First, instead of using metal bars and support springs to hold the mattress, the system uses a wood frame with a solid sheet of smooth plywood just under the mattress to provide excellent support with no high spots or cross bar to dig into your back. Second, instead of a spring-loaded mechanism for opening and closing the bed, this system uses a pair of industrial strength pistons to make lowering a raising the bed an easy operation. I can do it with one hand. Third, the bed can be opened in about 15 seconds. Yes, it is that fast. Simply pull the bed open, unfold the leg system as you go, and lower it to the floor. You are done. It's time for bed! In the morning, simply reverse the process and reclaim the floor space. The sheets and blankets can stay right on the bed when it is closed.
Oh, yes. There are no bi-fold doors in the way when the bed is open. I see that bed design over and over and always wonder why anyone would want that style. With our system, the "doors" are part of the bed frame. When you open the bed, the "doors" simply fold down with the bed and face the floor. They are completely out of the way. In fact, the "doors" are simply faux doors. The front bed panel is cleverly finished to look like doors, so the closed bed looks like an armoire.
After a number of our friends and family have stayed here, some multiple times, it became obvious that other families could benefit from our Murphy Bed systems. So, I opened a separate division of my cabinet company completely devoted to building and installing Murphy Beds. I researched lots of other Murphy Bed companies across the country. I learned what options were popular with their customers. I noted what I did not like about some of them as well. Then I designed a website system where you, the customer, can "custom-build" your own Murphy Bed system to meet your needs. You can build your bed and side cabinets right on the screen. And, you can instantly see the prices as well. There are no hidden tricks or gimmicks.
The result is our Murphy Bed system here at Murphy Beds of Florida.
I know that you will find that our Murphy Bed systems will meet your needs. We offer them in several different sizes, in two different configurations. The most popular model has been the "vertical bed" in which the bed rotates or "pulls down" from the wall. The pillows at the head of the bed are at the wall similar to a conventional bed. An alternate configuration is the "horizontal bed" where the bed pulls down "sideways" so that the long edge of the mattress is against the wall and the pillows can be placed on either end of the mattress.
To design your very own Murphy Bed system, selectMurphyBED-> Pricing(use the top menu bar) to design your own bed and side cabinets. The price and the picture of your Murphy Bed system will update immediately as you selection your options. When you are ready to order, simply SUBMIT your request online. Your selections will be instantly emailed to us. We will use the contact info you supply to contact you to complete the purchase and answer any questions that you might have. We will NEVER share your contact information.
If you have any questions about what we can do for you, please use the email address listed at the top of this webpage, or the About Us -> Contact Uswebpage. I prefer email because it lets me think about the questions that folks ask me. Then, I can give a more complete answer. Also, since I am personally involved with each and every Murphy Bed system including production, I can answer emails in-between other tasks. However, if you do want to speak with me directly, the phone number is listed on each webpage. If you get my voicemail system, I am probably working on our next client's project, or am on the phone with someone else. I will return your call ASAP. During the work week, I try to make all return calls the same day. If I don't get back to the phones until very late, I will call the next work day. On weekends I try to spend time with my family.
Sincerely,
Charles Kurak
Murphy Beds of Florida